»This blog is dedicated to a football player of la Seleccion Mexicana and new member of the Spanish team, Espanyol, Hector Moreno. :)
»Este blog esta dedicado al jugador de la Seleccion Mexicana y nuevo miembro del Espanyol, Hector Moreno!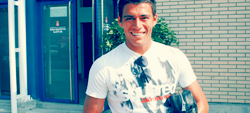 Disclaimer:
Any images, quotes, anything posted/reblogged belong rightfully to their owners.
biography
owner's account!
our twitter
Hector's twitter
photos